I've been thinking a lot lately about a favourite phrase of my grandfather Shepherd's — "the lazy man's burden." I'm not sure of its provenance, but he'd use it whenever we were visiting the cottage and he'd see me or a sibling staggering down the hill from the driveway, trying to carry too many things, dropping things and having to stop and pick them up, and so on.
It would have made more sense to make multiple trips with fewer items, but we were lazy. Staggering under the burden.
"The lazy man's burden" — struggling with an unnecessary load, rather than doing a little more work that would have resulted in less effort and anguish overall.
Laziness on the brain
It's been an exceptionally busy year for a normally busy job, and I can feel a certain… haste start to creep in around the edges of my work. Decades doing The Work has given me a sixth sense that starts to whisper you're cutting corners in the back of my mind.
And sometimes cutting corners feels good. You're getting things done! Knockin' stuff out of the inbox! Ticking things off the list! Yeah!
On the cottage porch in the back of my mind, Grampa Shepherd, smoking his pipe and shaking his head, is rightly pointing out that the lazy man is creating burdens:
First — fast work sliding into sloppy work.
When I work fast it gets things out the door, to be sure.
But it's an invitation to mistakes, and undoing a mistake is a massive investment of time and labour, not to say a significant loss of face. Deleting and retweeting a tweet, editing a Facebook or Instagram post, replying to comments saying "actually…" — it's a lot more work than taking the five minutes to take a breath and compose something well would have been in the first place.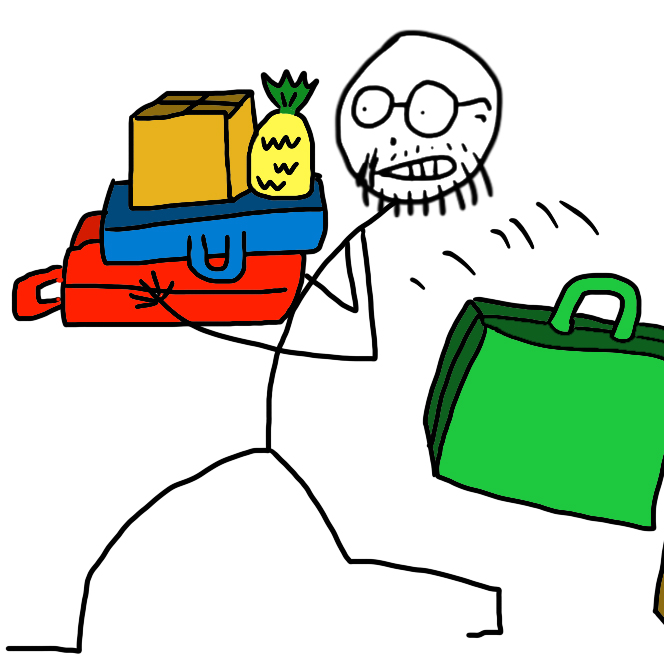 Second — production over people.
This one is more insidious. I work with highly gifted teammates, on both sides of the management structure. Amazing staff, great bosses.
The immediate instinct to just get it done or just fix it without having a conversation of what's being done and why — or talking through a task that somebody else really should be doing, then having them do it, work through issues, and have them get it right — once again, it's the lazy man's burden. I'm doing things not because it's the best way. It's just the expedient way.
The galling thing is that I'm not only creating more work for myself by taking on too much — see the first point — but I'm making a system worse by breaking it. And I'm robbing other people of the opportunity to learn and do. I work with remarkable people who are up to just about any task; not delegating and training to just "get it done" is a bad habit to get into, and harms more people than just me.
Checking my head
Like everyone in this work I feel burdened from time to time; that's a good moment to head-check myself and ask if I'm burdened with good work, or if I'm taking on a lazy man's burden, and it's time to look at workload and pace. Doing the latter can be difficult. It should be — it's the antithesis of the lazy man's burden, and that means that's the burden that probably should be borne.
Thanks, grampa.
Bonus scone recipe
I write these on Sunday mornings, and with a lovely day outside it felt like a scone kind of morning. These bad boys took about 40 minutes, pillar to post. Walnut pieces inside, some maple sugar sprinkled atop.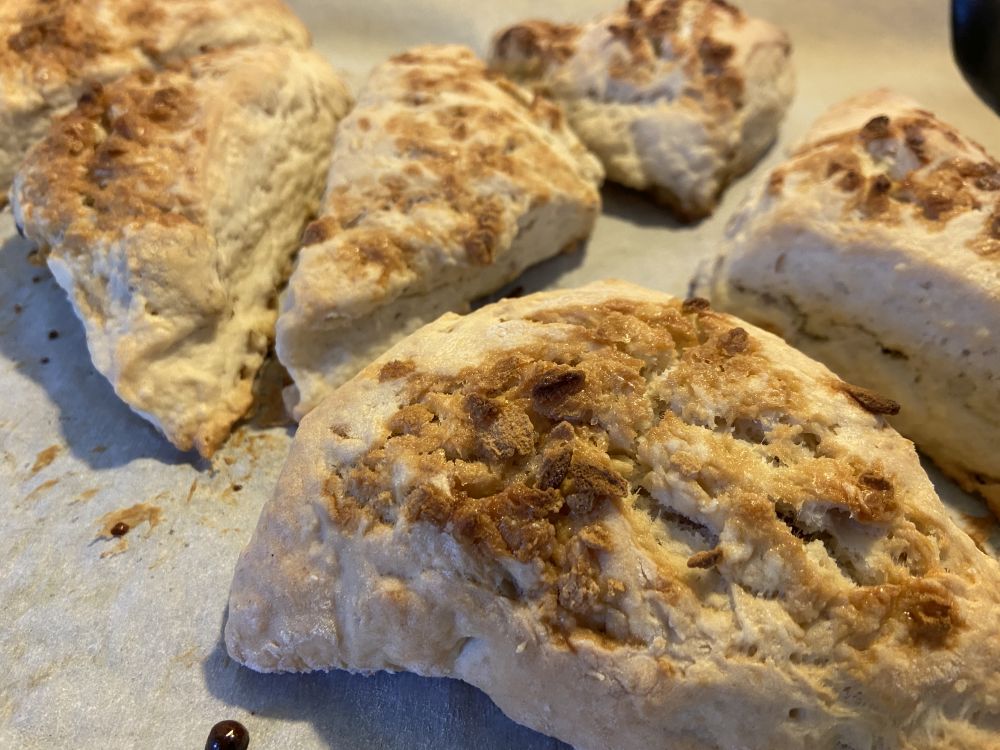 2 cups fresh AP flour
2 tsp baking powder
1/2 tsp salt
2 tbsp. sugar + 1 tsp
1 1/2 cups coconut milk + 1 tbsp.
Any desired stir-ins (spices, dried fruit, zests, etc.)
Preheat oven to 425, mix flour, sugar and stir-ins in bowl.
Stir in coconut milk until just combined
Turn onto floured surface, gently fold 4-5 times for even texture/not sticky. Don't overmix. Add more flour if dough sticky. Dough should be a 'lovely texture', not sticky / not dry.
Shape into 8-inch square, cut into 8 triangles using pizza cutter.
Keep pieces together.
Brush last tbsp. of coconut milk on top, sprinkle w/ tsp. of sugar.
Bake on parchment paper, top rack, 17-20 mins.
Let cool before reglazing (if desired).
April 18, 2021
Soundtrack:
Nathan Fake, "Blizzards"
Neko Case, "The Virginian" (from Truckdriver, Gladiator, Mule)
The Skatalites, "Hi-Bop Ska"