So The Bay fisked up.
As seen on Twitter, and then reported on, they used a photo of a Black person without their consent as part of a campaign for their "Charter for Change" marketing program. Not great — and compounding the mistake, it was a photo of Hadiya Roderique, a well known Black lawyer (not currently practising, but a JD is a powerful thing) and activist championing marginalized voices.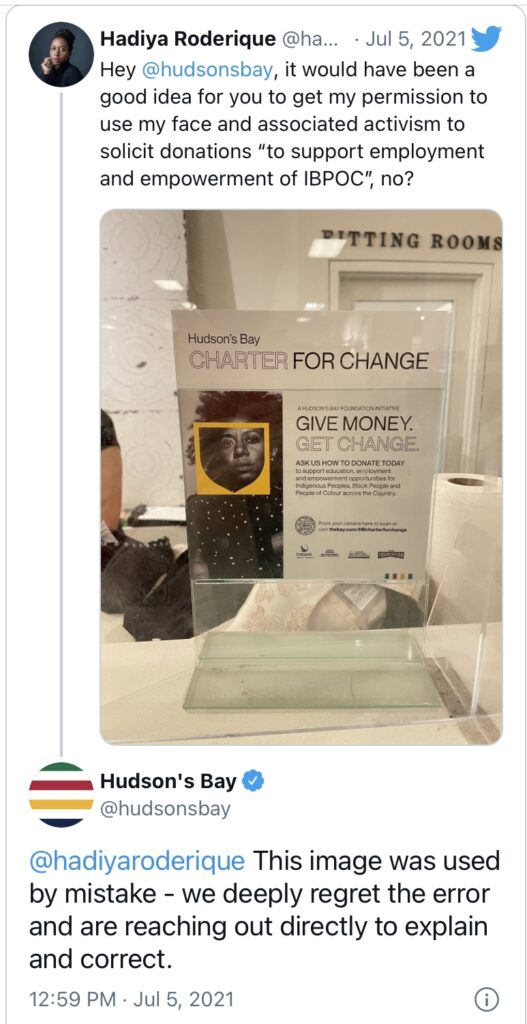 She called them out on Twitter, they replied, acknowledged the error, and removed the photo. Which seems to have satisfied Roderique, per the CBC article, although she's hoping for the Bay to make a financial contribution to a Black or Indigenous organization (although that seems to more or less be the goal of the Charter for Change program in the first place).
What went wrong?
The cascade here is pretty much what I guessed when it broke. Extrapolating some probable steps, based on my own past in agency work for national/multinational clients: an agency grabbed photos online as part of a pitch, probably one among a batch of concepts they were presenting. Pitch was approved, and somebody went ahead with the pitch concept without doing the due diligence of talking to the original creative team to make sure the right permissions were in place.
And here we are. The Bay has apologized, the photos are taken down, more attention has been brought to the issues of using marginalized peoples' work without credit or compensation.
But what would Roderique's options have been had the Bay been obstinate about the whole thing? Or if she decided that the Bay's takedown and apology wasn't good enough, and wanted to see how far she could push the issue in the courts?
Never a bad time to mention: I am not a lawyer, and this is not legal advice.
This is a situation where the PR and public shame levers were the best ones to pull — because however you choose to push this to the courts, it's unlikely that there would have been financial penalties to The Bay that would affect it in a meaningful way.
The copyright angle:
First, there's the question of using the photo as a creative work without permissions. As Roderique establishes in the Twitter thread, it seems like the copyright is held by another photographer, and not Roderique or the Globe and Mail (where the photo first appeared); likely it was taken by the photographer and licensed to the paper.
Assuming my read of Roderique's presentation of the photo copyright in the Twitter thread is correct, Roderique herself has no claim here: while she's the subject of the photo, the right in the artistic work resides with the creator (photographer).
If the copyright holder — assuming photographer, and not the Globe — pursued this, awards for this kind of violation have been historically fairly low; generally about what the photographer would normally charge to license a photo, or an industry-standard amount; figure around $5,000. 1See Chung v Brandy Melville, with the caveat that this is also a case from Quebec's civil system, albeit one that draws on the federal Copyright Act Amounts that I wouldn't want to pay for a candy bar, but not exactly bringing a department store chain to its knees.
Personality rights:
This is where Roderique herself could look at actions. Publicity / personality rights aren't that well established in Canada. Where they have been taken to court in the past, it's usually been in the context of a public figure, such as Bob Krouse or the estate of Glenn Gould, pursuing claims (and — worthy of mention — neither succeeded). Roderique herself is not an unknown person in Canada, but it would be tenuous to say that she has the kind of fame that would make The Bay's use of her photo qualify as "passing off" — using her name/image as an implicit endorsement of their program based on general recognition of who she is.
BC, Manitoba, Newfoundland and Saskatchewan all have provincial acts that forbid the use of one's likeness without permission in advertising, but that doesn't exist in Ontario, and isn't captured in federal legislation. Since Roderique is in Ontario, and (likely) The Bay is headquartered in Ontario, there probably isn't much there.2It's worth noting that at least at the small claims level, a court has recognized appropriation of personality and awarded a nominal amount — $100 — in Vanderveen v Waterbridge Media. So from a precedent perspective, it's in the books, so to speak.
Success is less assured here. Working through a set of factors defined by Amy Conroy of the University of Ottawa in 20123Amy Conroy, "Protecting Your Personality Rights in Canada: A Matter of Property or Privacy?", Western Journal of Legal Studies, Vol. 1 Issue 1, there are a number of escape hatches for The Bay: Roderique's relative lack of fame (while she's well known in some circles, she's not a public figure to the point that you can immediately profit from her notoriety and likeness), the fact that this is to support a charitable endeavour by The Bay and not direct profit for the company (there's an argument that can be made here about the marketing/PR value of the campaign for the company's bottom line, but the campaign is ostensibly about them giving money to charities to support marginalized peoples).
PIPEDA and the OPC:
This is pretty tenuous, but arguably — as Roderique is recognizable in the photo — it constitutes a 'record' per PIPEDA's definitions. You could conceivably pursue a claim with the Office of the Privacy Commissioner about the unauthorized exposure of this record as a privacy violation per PIPEDA.
There, however, the chain of actions in a complaint filing literally makes "Give the organization a chance to address your concern" the second step in the process.4"File a complaint about a business," Office of the Privacy Commissioner of Canada When this was brought to their attention The Bay apologized and struck the image both online and in stores, which historically has been seen as a satisfactory resolution for the OPC.
Public Relations vs. Public Relations
It doesn't take a genius to work out what's been happening in The Bay's boardrooms: somebody at some point realized that having a company whose entire history stems from the Colonial exploitation of Indigenous trappers might be problematic. Whether you take a cynical or positive view of this whole "let's re-invent this whole Charter business" in a direction that drives money to marginalized groups, it's fundamentally all about addressing that Hudson-sized skeleton in The Bay's closet.
So calling them out — loudly and publicly — on how they're building this make-good campaign on the backs of underrepresented people, and exploiting their images to make up for a history of exploitation — a sound, savvy move.
PR damage is the worst damage in this scenario. Quietly pursuing them on legally protected grounds would not be fruitless — if you have time and energy, you'd be putting them in a position where they'd be sinking tens of thousands of dollars in executive time and legal costs to mount a defense that they might lose.
The odds of doing significant financial damage to The Bay are minimal, but drawing public attention to this as a major PR misstep has been a success. Whether you're taking a sincere or cynical view of The Bay's "charter re-invention" project, drawing attention to the irony here was an entirely appropriate thing to do.
Would they have reacted with the same speed if it were not a notable Black woman with a law degree and a significant Twitter following? There's no A/B test for the universe, so again, it falls to whether you're taking a sincere or cynical view of the campaign's genesis, management, and intentions.